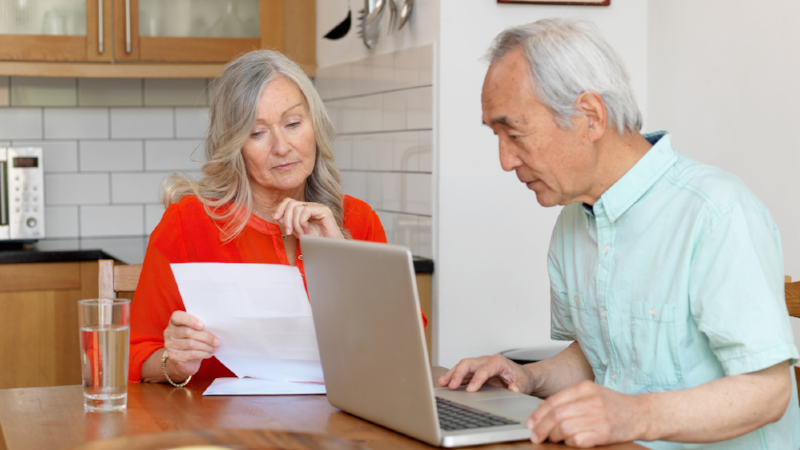 14% of people think they will still be paying their mortgage at age 70
42.5% of people currently renting their home think they will still be renting at age 70
 A new survey* from Aegon shows that 14% of people think they will still be paying their mortgage at age 70.
Traditionally, mortgages were paid off well before typical retirement ages but new research from pension and investment company Aegon has found that 14% of people believe they will still be paying their mortgage at age 70.
A combination of getting on the housing ladder later, higher house prices and the ability to borrow for longer mean that one in seven people expect to be repaying their mortgage into what would normally be considered retirement years.
Steven Cameron, Pensions Director at Aegon said:
"Paying off your mortgage in time for your 70th birthday is now far from a given.  Inflated property prices mean those getting onto the property ladder are doing so at later ages and are borrowing more for longer.
"Those left with an outstanding mortgage on their property face the prospect of either budgeting mortgage payments into their retirement or alternatively continuing to work. We know that one in four people expect to still be working at 70 but not everyone will be fit enough or want to do so. That's why it's good to see the development of new solutions for older borrowers, such as Retirement Interest Only mortgages. As our population ages, we need to look creatively at how to join up employment, pension and housing policies."
The survey also indicates that generation rent is here to stay as 42.5% of people currently renting their home think they will still be renting at the age of 70.
With younger generations finding it harder to get on the property ladder, the UK is set to lose its claim of being a nation of homeowners as the population of lifetime tenants continues to rise.
In the 10 years to April 2017, the percentage of households privately renting increased across all working age groups, according to the Family Resources Survey by the Department for Work and Pensions (DWP)**. During this time the proportion of homeowners with a mortgage fell among those of working age.
Cameron said:  "Our survey suggests that we will see an increase in the number of lifetime renters in the future. As younger generations increasingly fail to get onto the property ladder, renting a home becomes the long term plan and for many the only realistic option. 
"But the impact rent payments will have on your retirement plans needs to be carefully considered. Renting while working is a very different situation to renting when retired. People need to consider how feasible it is to fund rent when they are no longer earning a salary. It would be dangerous to assume the state will continue to provide the same level of housing benefits to future retirees as they currently pay.
"With rents on the rise***, you need to ask will your retirement income be enough to cover rent and other living expenses in retirement?
"Pensions typically take over when salaries stop at retirement. But even without having to fund housing costs in retirement, many people are not saving enough to maintain their lifestyle after work. If saving more into a pension is not an option, working into later life might be the only choice tenants have to keep a roof over their heads."
ENDS
References and further information
*Research was conducted by Aegon with the Aegon UK consumer panel. Total sample size was 700 adults aged 18 to 64 years old. Fieldwork was undertaken 23 May to 10 June 2018.
**Family Resources Survey 2016/17, Department of Work and Pensions, page 5 https://assets.publishing.service.gov.uk/government/uploads/system/uploads/attachment_data/file/692771/family-resources-survey-2016-17.pdf
*** Private rental prices paid by tenants in Great Britain rose by 1.0% in the 12 months to May 2018; unchanged from April, ONS Index of Private Housing Rental Prices, Great Britain: May 2018  https://www.ons.gov.uk/economy/inflationandpriceindices/bulletins/indexofprivatehousingrentalprices/may2018
Stephanie Melrose
PR Manager
Aegon UK
Tel: 0131 549 6743
Mob: 07740 897 621
Notes to Editors
In the UK, Aegon offers retirement, workplace savings and protection solutions to around two million customers and employs approximately 3,450 staff. More information: aegon.co.uk
As an international life insurance, pensions and asset management company based in The Hague, Aegon has businesses in over twenty five markets in the Americas, Europe and Asia. Aegon companies employ over 28,000 people and have millions of customers across the globe. Further information: aegon.com
The value of an investment can fall as well as rise and is not guaranteed. You may get back less than the amount originally invested.
Aegon is a brand name of Scottish Equitable plc. Scottish Equitable plc, registered office: Edinburgh Park, Edinburgh EH12 9SE. Registered in Scotland (No. 144517). Authorised by the Prudential Regulation Authority and regulated by the Financial Conduct Authority and the Prudential Regulation Authority. Financial Services Register number 165548. An Aegon company.www.aegon.co.uk                                                                        
© 2018 Aegon UK plc.