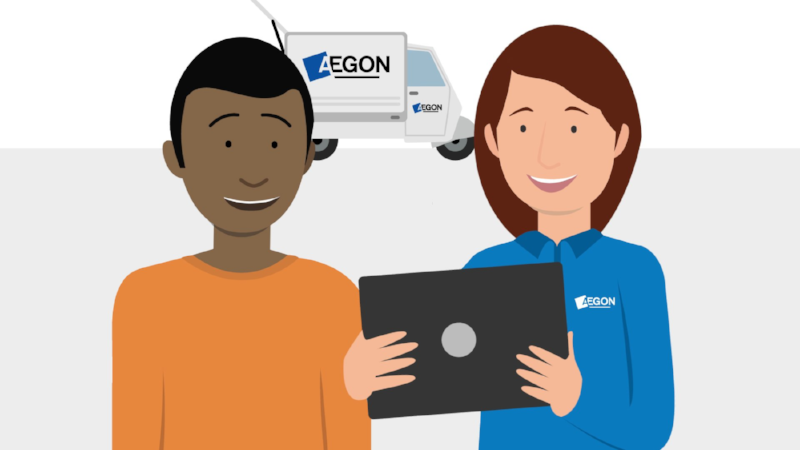 Experts from Aegon and Pension Geeks deliver innovative campaign to engage employees with pension saving
Aegon embarked on a tour visiting businesses including Bouygues UK and Hachette providing information and guidance on pensions and saving for the future
Innovative activity, delivered in partnership with Pension Geeks, included an on-site caricaturist depicting how individuals could look in later life
The activity is designed to engage individuals with their pension as a quarter (26%) admit that they don't know how much they hold in pension savings
As part of its ongoing commitment to work with employers to encourage their workforce to actively engage with saving for retirement, Aegon, in partnership with Pension Geeks, delivered a three-day tour with the aim to engage individuals with their pension savings.
A team of pension and saving experts were onsite at the offices of businesses including Bouygues UK and Hachette publishing providing information, guidance and tips on financial planning for later life, including a review of retirement age, pension pot value and where their pension is invested.
Employees were able to speak informally with a pension's expert over a coffee about what kind of retirement might be in store and a caricaturist depicted what they might physically look like at retirement age.
Research* by Aegon shows that many individuals are burying their head in the sand when it comes to planning for retirement.  A quarter (26%) of those with pension savings admit that they don't know how much they hold in pensions and one in five said that they are not confident about their ability to retire comfortably.
Ronnie Taylor, Chief Distribution Officer at Aegon comments: "We are passionate about working with businesses to support their employees to approach retirement with confidence, which is why we have partnered with Pension Geeks on this exciting activity. Many people simply aren't engaging with planning for later life and all too often it falls to the bottom of the to-do list. The reality is that unless individuals actively engage with their pension savings, they are at risk of being entirely unprepared for retirement.
"It is vital that businesses provide the means for its staff to make informed decisions about their pension savings, whether they are just starting out or nearing retirement age. At Aegon, we want to make it interesting and engaging to talk about workplace pensions and there are clear benefits for both the employee and business in doing so. Engagement with workplace pension savings can boost employee's financial wellbeing and can be a tool to help employers to attract and retain talent."
Further information
* Figures from the Aegon Retirement Confidence Survey, a bi-annual tracker study that assesses confidence to retire comfortably among a nationally representative sample of UK residents that are not yet retired. The 946 respondents who took part in this study were recruited through Aegon's customer and consumer panels. Fieldwork was undertaken in May 2018.
Notes to Editors
In the UK, Aegon offers retirement, workplace savings and protection solutions to around two million customers and employs more than 3,000 staff. More information: aegon.co.uk

As an international life insurance, pensions and asset management company based in The Hague, Aegon has businesses in over twenty markets in the Americas, Europe and Asia. Aegon companies employ over 25,000 people and have millions of customers across the globe. Further information: aegon.com