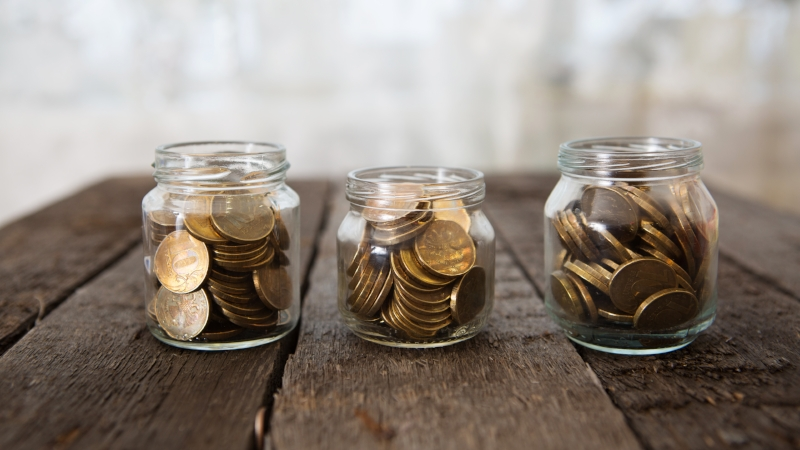 Faith in their own money management skills is the biggest reason people give for not using professional financial advice
On closer examination, that confidence evaporates when faced with complex pensions and investment decisions
80% overestimate their own financial capability admitting they fail to set financial goals or plan for the future, leaving them unprepared
The most common reason for people not asking for expert financial help is a self-belief in their own ability, according to a study into the demand and impact of financial advice by pension and investment provider, Aegon.
However, while half of respondents were confident to choose savings and general insurance products, the numbers dwindle to about 1 in 10 when it came to making more complex decisions about pensions and investments. Avoiding professional advice through an over confidence in their own financial planning abilities means many could miss out on the tangible and intangible benefits that advice delivers.
UK consumers identify the financial decisions they would be confident making without advice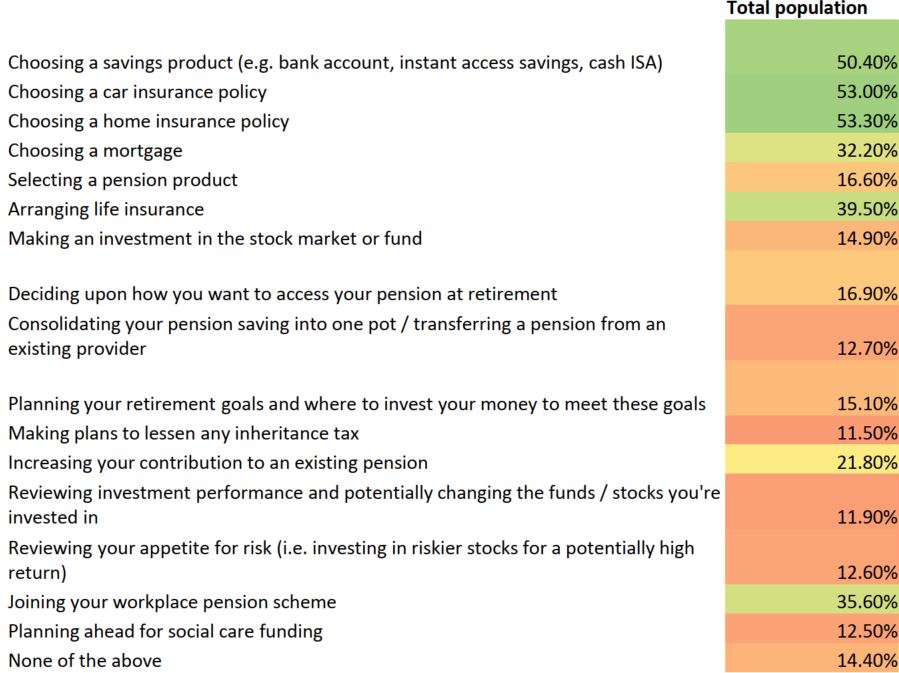 While a do-it-yourself approach may have surface appeal, the research highlights it comes with significant risks. People who don't seek advice may be overlooking fundamental elements of financial planning and budgeting. Worryingly, a staggering 80% of people don't have clear financial goals or know what they're saving for as a result of not seeking advice. Professional financial planning helps people organise their money so they have less stress and more success. The research shows that too much self-belief in their own ability is exposing people to a risk that they're unprepared.
A lack of advice also results in a poorer relationship with money. Three quarters of people with an adviser say they have a good or very good relationship with money, but this falls to 58% of people who have never received financial advice. Despite people asserting they can manage decisions concerning spending, saving and investing money, the findings show a significant lack of confidence in making many of the more important financial decisions. When it comes to deciding a retirement date for instance, those people who had a financial adviser were far more confident about making a decision (54%) compared to those who didn't seek advice (29%).
Life can be unpredictable, but with a good foundation and a financial roadmap people can feel more confident about their finances. Despite saying that they were able to manage their finances themselves nearly a third (29%) thought that financial advisers were best placed to provide advice on how to achieve financial life goals. The same percentage also thought a financial adviser would be the most trustworthy source of financial advice.
Steven Cameron, Pensions Director at Aegon commented:
"Managing your own finances can be rewarding, but there's a lot to consider and it's worth remembering that the financial decisions you make can have lasting implications for the rest of your life. That's why working with a financial adviser often makes huge sense.
"Decisions on spending, saving and investing can be complex, made more intricate by pension freedoms. But despite this, taking a DIY approach is the most common reason given for not using professional financial advice, which can be risky, particularly in areas such a retirement planning.
"Financial planning isn't a one-size-fits-all approach. It's designed around the individual to meet their personal needs and circumstances and can be invaluable in providing peace of mind, helping individuals make the right choices for their future wealth. There's a real danger that poor decisions can mean plans unravel, putting people's financial futures in jeopardy. Having a professional by your side helps make sense of your options, many of which you might not know you even have."
Further information
*research was carried out with 2000 consumers in July 2019.
Notes to Editors
In the UK, Aegon offers retirement, workplace savings and protection solutions to over three million customers. Aegon employs around 2000 people in the UK and together with a further 800 people employed by Atos, we serve the needs of our customers. More information:

 

aegon.co.uk
As an international life insurance, pensions and asset management group based in The Hague, Aegon has businesses in over twenty markets in the Americas, Europe and Asia. Aegon companies employ approximately 26,000 people and have millions of customers across the globe. Further information:

 

aegon.com
Figures correct as of November 2019